I think I did really good! First up: all the clothing I could fit into a bag for $5. (minus one t-shirt that I thought either Hubby or Itty Bitty would like)
Shirts for repurposing - I especially like the purple one!
This cropped jacket is a fantastic colour on me. It's perfect - no re-fashioning required.
This cotton/spandex top is another one of my favourite colours. The outline of the flowers and paisley shapes is chocolate brown. Now, this needs a little refashioning. There's a button missing, so I might just switch out all of the buttons to chocolate brown for some interest. And I'm wondering about making short sleeves, rather than these boring 3/4 sleeves. Sleeveless would be cute too, and I've got a pair of flat front chocolate brown slacks that would go good with this top. We'll see what happens after it comes out of the washing machine...cuz it IS dirty!
I really like the ruffle detail on the sides.
And the slacks to match, well they need a little tapering.
A vintage linen table cloth. It's in the washing machine right now, and I hope I have time to press it and put it on my table this afternoon. I love the greens. 75¢
hmmm...bad photo, oh well...the patterns are brand new, and for the five of them, a total of 63¢. I thought having patterns for some simple pieces (like the pencil skirt in the top envelope) would help me in my wardrobe refashioning. Other patterns are for nine different bags, and ten different pillows.
$1.75 for the two books -- the knitting pattern book has several simple looking hats, mitts, and scarves, and who doesn't like Mary Engelbreit? $2 for the miniature sewing machines to join my collection, and 50¢ for the ball of knitting worsted. That will get me started on knitting something for Keeping Kids Warm.
Ready to see what's on the slate for my next round of refashioning? These all came out of my closet yesterday.
The black skirt is too long, and the snaps are icky, but I really like the faux suede fabric. The taupe skirt is again, too long, but I like the bandless waist. It fits really nicely now, just needs to be taken up. The pale blue wrap skirt is a very nice length, but perhaps a little dated. I'm going to see if I can make new skirts out of these.
Well, before I get to work here, let me share a couple of blogs that I've recently discovered and find interesting.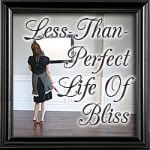 Leanne's House
take a look at the gorgeous embroidered block of the month quilts in her sidebar
Centsational Girl
Written by a bargain lover and incurable DIYer. Plenty of eye candy here.