...and I haven't done a thing! Okay...I puttered around a little with a block, but it's still on the machine.
But I do need to blog about what a great BQF I have in
Gail
Knowing that my heart goes pitter-pat for scraps, she cheerfully shopped for some at the
London Friendship Quilter's Guild
rummage sale last night. Just look what I have here! (Gail must know I have a weakness for blue too!)
And there was a big chunk of this Debbie Mumm fabric:
Which will likely make some fun quilt labels. Here's a closer look: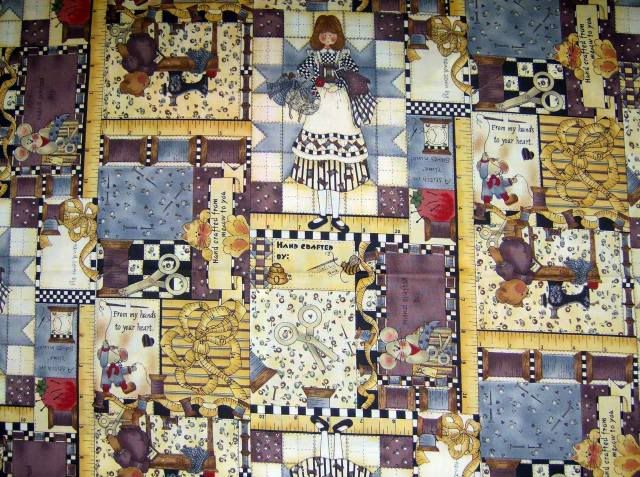 And I've been meaning to post a photo of the lovely candle mat Gail made for me for Christmas. Love the Figgy Pudding fabrics!
So, are you wondering how I'm doing with my New Year's Resolution to use $1000 in coupons? In just two weeks, I'm over $90 - - and I'm now addicted!
This is why I haven't been sewing tonight--I've been going through the weekly flyers to scout out some good deals. Hubby even used coupons today! Campell's soup is on sale for $.44 this weekend, and I had a bunch of Buy 3, Save $.50 coupons - - so he got 2 cases of soup. If my math works out right, that's about $.27 a can. (Good shopping sweetie!)
If you're inspired to join me in my resolution, here's a link I stumbled upon tonight (sorry, just Canadians)