I've got 20 blocks done in my Black & Bright quilt top, and I'm not sure how big it will go - - but I have 8 more blocks cut and ready to sew, so it could go on for some time. :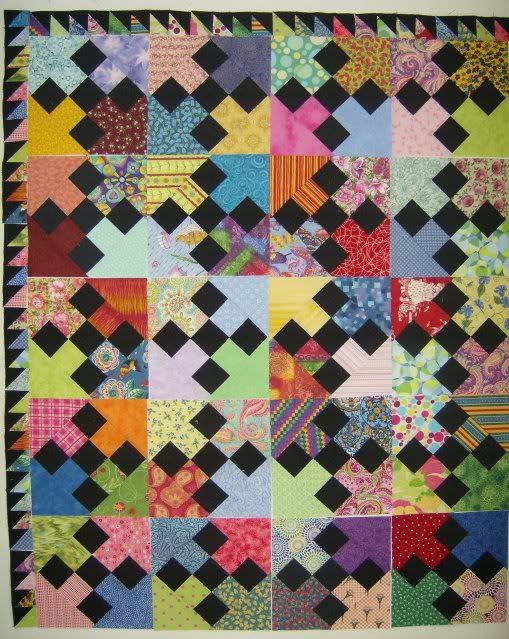 I managed to go out to ONE thrift store this weekend. I'm really pleased with the 'cutter' shirt ($2) - it's brand new, XXL, and probably some man got it as a gift and thought....ya, like I'm gonna wear FLOWERS!!! I don't know what I'll ever do with the little pink vase, but it called out to me (50¢) and a couple of little embroidered napkins (25¢ each) which may just get turned into quilt labels - particularly the hand embroidered one with the flower basket.
I also did a little shopping this morning, and can now add another $7.35 to my coupon ticker! A little closer to my $1000 goal.
Here's a (Canadian) tip - - there's a BOGO (buy one get one free) coupon that's printable from the SC Johnson website for Pledge furniture polish or multi-surface cleaner.
There's actually several good printable coupons there, so take a look. AND Pledge is on sale at Canadian Tire this week for $4 (reg. $4.99). 2 for $4.00 is a nice savings from the regular price of $9.98, and I was allllllll out of furniture polish (from all the lively dusting I do!). Plus, I used $2.35 of CT money, so that was an even bigger savings. I wish I had had some Royale bathroom tissue coupons today - - 12 double rolls for $3.77 is an awesome deal, but would have been even sweeter with a coupon!
I hope to do some sewing tomorrow - - once I get some HOMEWORK done!!! - - hope everyone is having a GREAT WEEKEND!!!