I got the 6th border on Claudia's Bedazzled Mystery Quilt. I think I'll stop there. The 7th (& final) border is just plain, and I don't have enough of the darker blue, so I'd have to opt for the lighter blue - and it looks icky.
And of course, I'm making a quilt for my kitty's brass bed.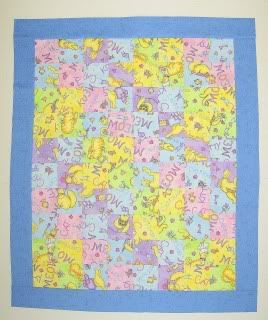 It's sandwiched and basted. Can you believe I'm gonna hand quilt this? My kitty is going for his shots on Monday, but he still is nameless.

I got my grades for Spring Intersession. Ugh. Well, my cumulative average is still an "A" (barely) -- 81.1