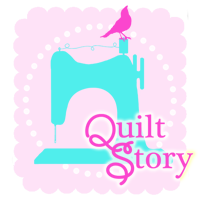 Have you visited "Quiltstory" yet by sisters Heather & Megan of Fresh Poppy Design? It's new among my favourites.
"We created Quiltstory because as we searched blogland, we saw so many gorgeous quilts with amazing stories behind them. We thought it would be fun to compile them all in one place, so that day after day we can present new quilts with their stories."
"The mission of the barn quilt program is to celebrate quilting as a traditional art form, appreciate the architecture of farm buildings and rural landscapes, promote art appreciation, and stimulate county economic growth while celebrating our agricultural heritage."
Looks like a nice day trip! Wardsville is a pleasant drive west of here, right on #2 Highway (Longwoods Rd.) I saw the quilt that the individual blocks are based on at the IPM quilt show in Shedden a couple of weeks ago. Here's a story about that.
Since embarking on Fabric Diet 2010, I've been thinking a lot about simplifying in a lot more areas of my life. Towards that end, I'm in a mood to shed myself of STUFF. Just today, (as I was cleaning out some of that STUFF) I found an article about this very thing in an old issue of "body+soul" (Feb 08) that says:
"The secret to abundance lies in striking a balance between not enough and way too much."
This has got me wondering what achieving that balance will feel like, what need I am filling by accumulating THINGS, and what internal spaces will be opened up, or possibly painfully emptied as my physical world opens up. It's going to be a very interesting PROCESS, and I think I'm going to enjoy the exercise/experiment.
My plan is to fill a grocery bag every day full of things that I simply don't need, want, or use, and either throw it away, give it away, or donate it to the thrift store.
Today, I started with things in my dining room and bedroom. I filled my bag with candles and dishes, a few clothing items, a couple of phones. It didn't take long to fill a bag, and then zip over to my nephew Greg's house to drop a pretty little dish off that I thought he would enjoy, and then skip over to the Bibles For Missions thrift store and drop a full bag into their donation box, plus a stack of plates.
This exercise is probably going to kill Hubby. He hates to part with ANYTHING. He'll argue that, because I do collect a lot of different things, but the truth is, he just hangs on, and on, and on, to things because he perceives they have value. Just as an example, we were considering what to do with the art from our pre-demo/reno bathroom. One of the pieces was rather expensive - it's a very large black & white photograph of tulips in a really nice frame -- plus two smaller b&w tulip photos that weren't expensive, but matched quite nicely...and he'll never let me forget it if I give them away.